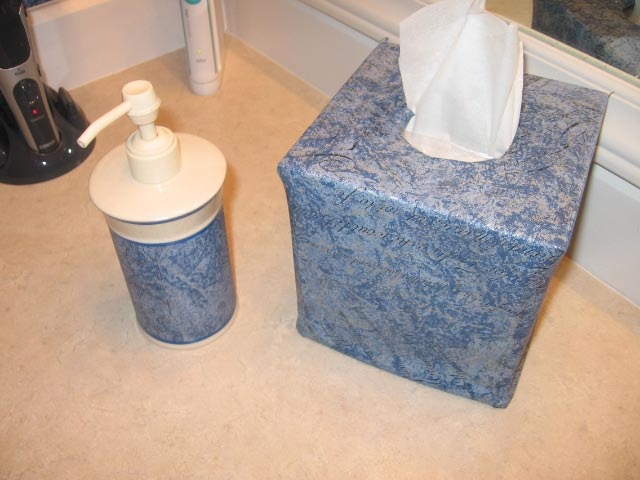 I'm excited to report we have added more pictures to our
Paper Illusions Photo Gallery
. A special thank you to Ginette for sharing them with me.
I had just finished updating the main product page at
Wallpaper Illusions
(which I'll tell you more about later), and I was reading through my email and got this wonderful testimonial from Ginette.
I discovered Paper Illusions about 3 years ago. I did both bathrooms in my condo with beautiful results. Having moved into a new house last year, I once again turned to Paper Illusions for my decorating needs...
You can read more in the
Photo Gallery
, but what excited me so much was that she shared pictures of accessories she had done. I posted a project sheet on
Turning Trash into Treasures
just about a week or so ago, and while her accessories were far from trash, she had gotten creative and used the Paper Illusions to transform
ordinary
items into
coordinating
items to match her room's decor. Kudos!
Let me encourage you to:
Pop on over to the gallery and see what she did

Grab a copy of the project sheet,

Turning Trash into Treasures

Take out some of your leftover Paper Illusions from your last project -or- Pick up a Mini-Roll at Wallpaper Illusions and let your creative juices flow!
It's so easy, you'll be amazed. And you'll truly have a treasure to proudly display as a result. Enjoy!
As always,
have fun papering it!
Carrie
P.S. If you've already created some treasures, please tell me about them below...AND if
you
have pictures and would like to have them showcased in our photo gallery, please do share! ;)